Page 1 of 2 • 1, 2

Doctor Inferno

Site Admin




OS

:

Windows 7 Home Premium and Ultimate X64




Anti-Malware

:

Kaspersky PURE and Malwarebytes' Anti-Malware




Posts

:

11975




Rubies

:

75789




Likes

:

15



Windows 7 (formerly codenamed Blackcomb and Vienna) is the next version of Microsoft Windows and the successor to Windows Vista. Microsoft has stated that it is "scoping Windows 7 development to a three-year timeframe", and that "the specific release date will ultimately be determined by meeting the quality bar."
Pre-beta code for Windows 7 released this week addresses many complaints about Windows Vista--and introduces a slew of changes intended to make the OS faster, easier to use, and more customizable. Take a look at some of the more visible features, including a redesigned UAC, handy Jump Lists, and more.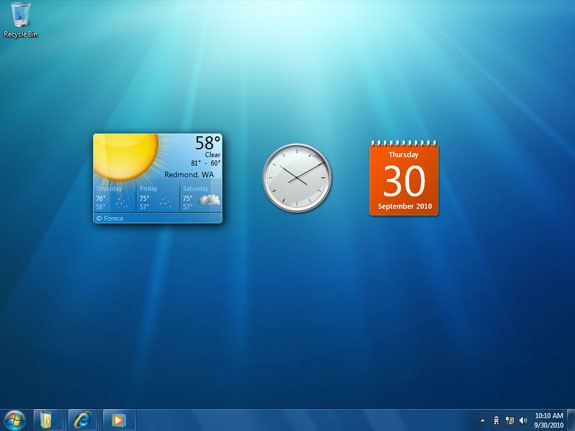 Microsoft has killed the Sidebar in Windows 7, but the Gadgets it contained live on. They simply sit wherever you choose to place them on your desktop.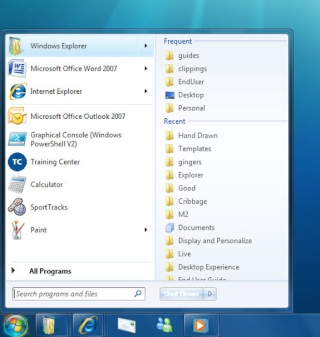 Both the Taskbar and the Start Menu now include Jump Lists--context-sensitive selections of actions relating to a particular application, such as files you've used recently or access frequently.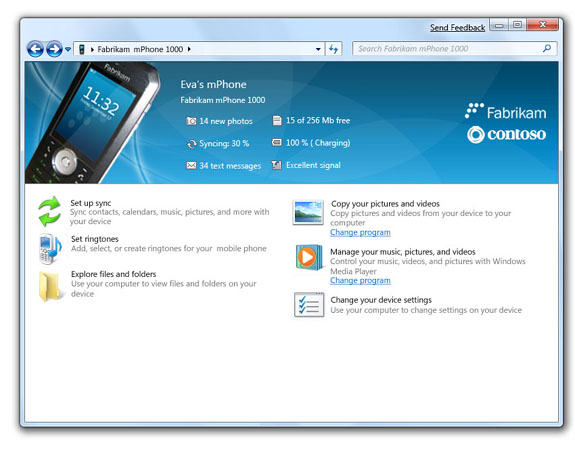 Device Stage is a new feature that gathers all of the information (everything from drivers and applications to manuals) relating to a particular phone, printer, or other piece of hardware, and lets you access it from a single window. But it will show up only if device vendors create an XML document based on a Microsoft template, a document that also must be approved by Microsoft. The good news is that such documents are a lot easier to create than new device drivers--and vendors can stick with the drivers created for Vista.
Windows 7 introduces Libraries, which are virtual folders that provide easy access to related content, regardless of its location on your PC or even on your network. While the OS will ship with several preset Libraries (Documents, Music, Photos, Video) based on file type, you can create additional Libraries based on criteria you set, such as music genre or photos created on a specific date.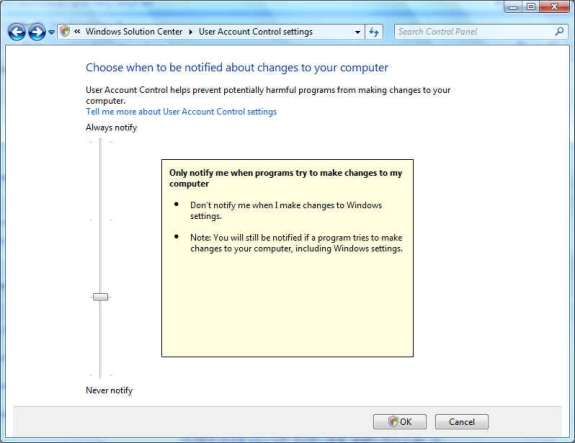 Vista's famously annoying User Account Control becomes less annoying: It now lets you control which potential security risks it alerts you to, and which ones it lets slide.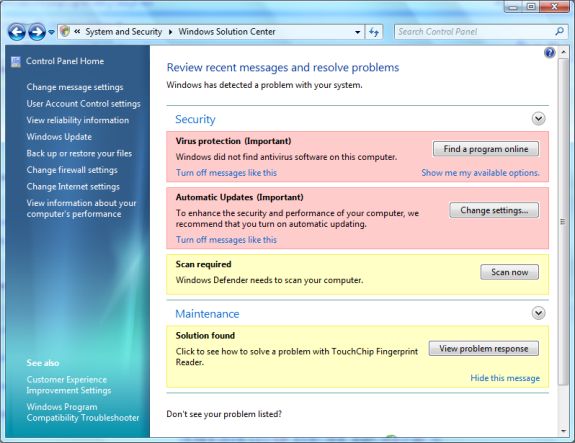 The new Windows Solution Center lets you review notifications about potential system problems at your convenience, rather than when you're in the middle of doing something else.
The new Federated Search feature collates results from multiple PCs on a network into one list of results.
Windows 7 introduces a slicker interface for choosing, customizing, and/or creating desktop Themes--a feature Microsoft says it will rename Styles before Windows 7 ships.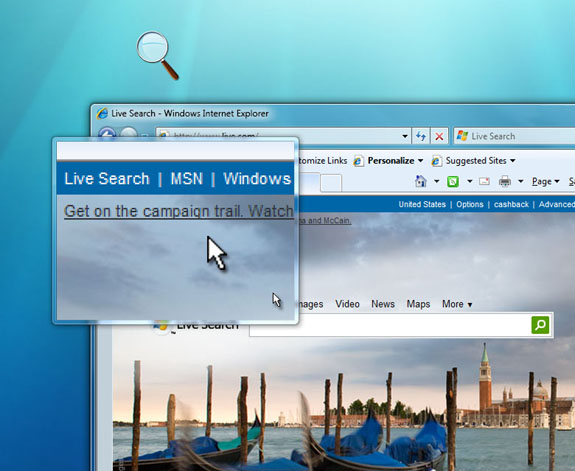 The new Magnifier feature lets you enlarge a part of a screen in Windows 7.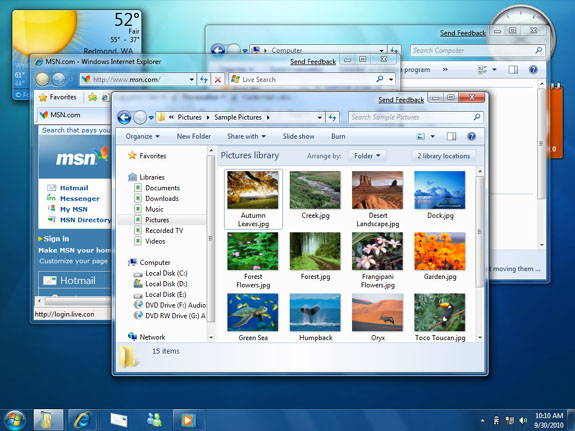 If you frequently work with multiple windows and need to grab something off your desktop, you'll like the ability to quickly take a look. Here's a Windows 7 desktop before you click on the lower right hand corner of the taskbar...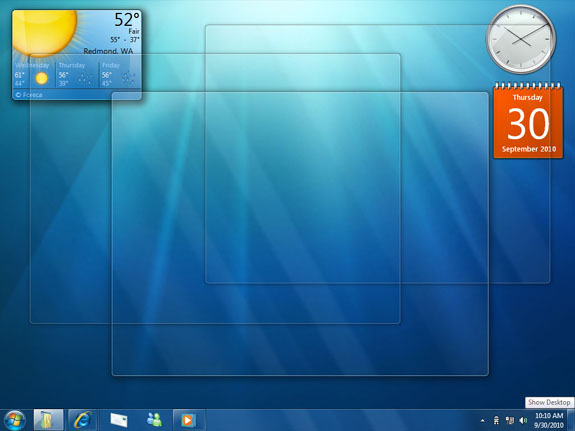 ...And here's the same Windows 7 desktop shown in the above image, but with the windows hidden. Now you can see the desktop itself.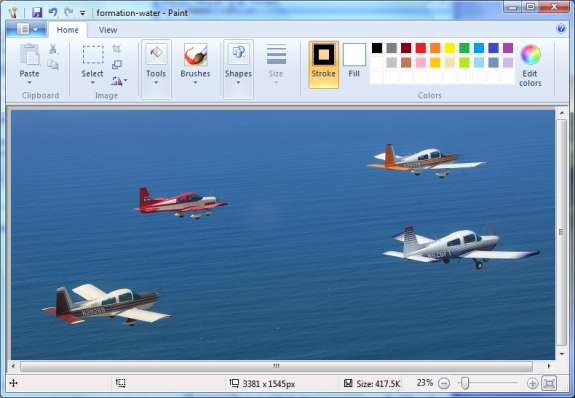 Windows 7's Paint application has adopted Microsoft's so-called Scenic Ribbon toolbar interface, as first seen in Office 2007. The ribbon also appears in WordPad.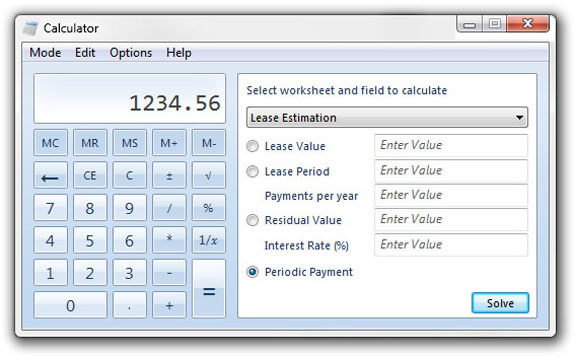 In Windows 7, the trusty Calculator accessory gets a makeover.
Last edited by Doctor Inferno on 31st December 2008, 10:08 am; edited 2 times in total
............................................................................................
Please be a GeekPolice fan on
Facebook!

Have we helped you?
Help us!
| Doctor by day, ninja by night.
Agent Cosmic

Tech Colleague





OS

:

Windows 7




Anti-Malware

:

ESET Smart Security




Posts

:

3246




Rubies

:

22260




Likes

:

0



Glassy and 3D, new features. Seems quite the same but slightly better. I'm looking forward to Windows 7.
............................................................................................

FunSubstance
is the place to go for daily entertainment.
Chosen1

Leader's Leader




OS

:

windows xp, 7




Posts

:

1040




Rubies

:

4908




Likes

:

8



cool! looking forward to it
emu1616

Intermediate




OS

:

Main Rig: Vista Premium | Laptop: XP Pro | Test Rig: Ubuntu/XP Home




Posts

:

62




Rubies

:

3561




Likes

:

0



Sounds like they've started to listen to feedback at last.




............................................................................................


~ E-Mu ~

-:The problem with troubleshooting is that trouble shoots back:-
ocean.bluex

Leader

OS

:

Windows 7 Home Premium




Posts

:

588




Rubies

:

4212




Likes

:

0



Messedup_xx

Novice

Posts

:

42




Rubies

:

3556




Likes

:

0



redx54321

Novice

Posts

:

15




Rubies

:

3601




Likes

:

0



I think the taskbar looks awkward
Safan

Tech Colleague





OS

:

Windows 7 x64




Anti-Malware

:

McAfee Security Center




Posts

:

3289




Rubies

:

12649




Likes

:

0



Many new interfaces and upgrades but the original taskbar looked better because of its size
............................................................................................
----------------------------------- GeekPolice :: Unlock The Truth ----------
Doctor Inferno

Site Admin




OS

:

Windows 7 Home Premium and Ultimate X64




Anti-Malware

:

Kaspersky PURE and Malwarebytes' Anti-Malware




Posts

:

11975




Rubies

:

75789




Likes

:

15



Here's a screenshot I captured of the new Windows 7 boot screen:
Looks better than that bitmap-ish Vista's boot screen in my opinion.
............................................................................................
Please be a GeekPolice fan on
Facebook!

Have we helped you?
Help us!
| Doctor by day, ninja by night.
elevendude

Beginner

Posts

:

1




Rubies

:

3592




Likes

:

0



Windows 7 seems a bit nicer but the task bar just and start panel look too odd so they should fix them up a bit before the release.
Also the start up screen is very plain but a bit better than Vista's so they should pimp that up a bit as well.
Even though it is not perfectly what I wanted I am still looking forward to Windows 7 so lets see how it goes
Page 1 of 2 • 1, 2

Create an account or log in to leave a reply
You need to be a member in order to leave a reply.
Log in
Already have an account? No problem, log in here.
Log in
---
Permissions in this forum:
You
cannot
reply to topics in this forum