Hello to all.

A friend of mine just gave me a CPU as he had a new one.
I reformated it, installed all drivers, (sound, Graphics)
Had some problems installing the Ethernet Controller but managed to find the right version and installed it.

The problem comes here.

My Friend Uses a Service Provider for internet (starhub)
and i use another service provider (singnet/singtel)

When he was using the CPU he gave me,
he could connect to the internet easily..

but when he gave it to me, i once opened it, There were no extra LAN Cards whatsoever,
but even though my ethernet controller drivers are installed perfectly and signed,
the computer just wouldn't aquire any network.

i have 3. 1, is the one i'm using now to post this up.
2, the one i had before i got the computer from my friend (which works perfectly fine)
3, the one which cant go internet ( my friend's computer)

1 & 2 connects to the internet through a local area network through a given workgroup created by me.
the wires are connected to a Router and the the lights from each port of the computer is flashing.
but,
This computer (no. 1) can surf the net,
but my friend's computer (no. 3) is stuck in acquiring a network address.
it just continues to send packages and receiving not a single package,
when i right click the internet icon, REPAIR,
it said it cannot be repaired.
well basically, it doesn't even have an IP and all that sort of rubbish,
hope ppl out here will understand what i'm trying to say.
i have no idea what i'm trying to say either, i'm just stating what i see.

I've tried like crazy in order to find ways to make things work. but still no success...
someone or anyone please help me solve this problem.

I placed this post in the hardware topic because i was thinking could it be LAN card problems?
but then how could it be?
my friend could surf/connect to the net with the state of the computer it is now...
but why can't I?

I can't even network these 2 computers together so that we could share printers.
i simply can't do anything now...
i'm close to giving up.

please need help!
I'm sick of trying.

sorry for the way i phrase my words and my pleading,
im too fustrated about it.
here's a new update about my problem.

after i posted that post up there on my other computer.
which is on the same network as my problematic computer.

today.
the problematic computer got connected around in the afternoon. 1-4pm (gmt +8)
i could log in to windows live messenger, mozilla, internet explorer. etc
but around in the evening, my internet connection suddenly got cut off again..

i went out and came back around 10+pm.
and my computer's back with internet connection.
no doubt there will be another cut off of internet connection sooner or later.

anyone know the problem.
please help! thanks!
tarzan

Leader




OS

:

Linux,XP,Vista, Windows 7,8 10




Arch.

:

Both




Anti-Malware

:

Eset Smart Security




Posts

:

440




Rubies

:

3965




Likes

:

1



hmm. yeah. but there was once singtel ask me not to put proxy. but when i set it "no proxy" the internet dun seem to work sometimes.
tarzan

Leader




OS

:

Linux,XP,Vista, Windows 7,8 10




Arch.

:

Both




Anti-Malware

:

Eset Smart Security




Posts

:

440




Rubies

:

3965




Likes

:

1



same prob happened with me also .... can u post the screen shot of PROXY config window?
of IE? or MF? or for both?
here's the screenshot.
Left - Mozilla Firefox
Right - Internet Explorer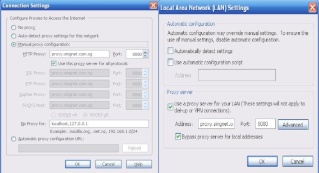 tarzan

Leader




OS

:

Linux,XP,Vista, Windows 7,8 10




Arch.

:

Both




Anti-Malware

:

Eset Smart Security




Posts

:

440




Rubies

:

3965




Likes

:

1



wat is the IP address of the Computer No. 1 & 2, have u assigned any Ip to computer 3?
erm... i dunno the IP for computer 1 & 2, 3 isn't even connected. but right now. my internet connection seems to be stable without me doing anything.
i've monitered it for quite a while, i could even play LAN games online no problems.

any idea what could have caused the freaking irritating no internet connection thing so that if it happens again i would know what to do.

but it's working now, thanks
Create an account or log in to leave a reply
You need to be a member in order to leave a reply.
Log in
Already have an account? No problem, log in here.
Log in
---
Permissions in this forum:
You
cannot
reply to topics in this forum