techy

LEET!




OS

:

TRIPPLE BOOT WINDOWS 7 RC BUILD 7100, VISTA SP2, XP SP3,VIRTUAL PC BETA, XP MODE BETA




Posts

:

1385




Rubies

:

5477




Likes

:

0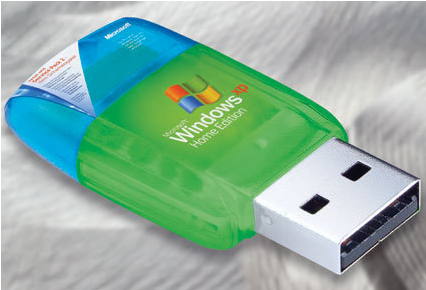 All it takes is a minor error in the Windows Registry or a virus infection, and your operating system can become unbootable. But with a properly configured USB flash drive on hand, you'll always have a compatible replacement no further away than your pocket or keychain. In addition, the flash drive can also provide a secure browser and virus scanner, and lets you take your favorite DVD burning and Office software with you wherever you may go.
All that's needed is a bootable USB Flash drive with at least 256 MB of storage capacity and a Windows Setup CD. Using the program Bart PE Builder (Freeware), you can install Windows OS on the flash drive, along with other softwareas needed (and as available space permits).

Compact
Bart Lagerweij's free utility, PE Builder, condenses the original setup data for Windows OS into a slender operating system that is ready to run from a CD or a USB flash drive. This compact, portable version of Windows includes all the important system tools for dealing with a PC emergency. You can even add other programs to this collection, such as the media writing tool Nero Burning ROM or an anti-spyware package such as Ad-Aware SE Personal, during the installation process.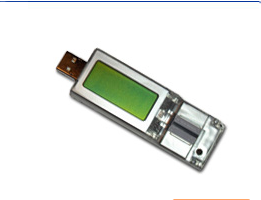 Another unique example to mention here will be-----
Bio Computer on a stick with lcd
which is World's First Bootable Smart Drive FingerGear Computer-On-a-Stick .


IT TURNS ANY PC IN THE WORLD INTO YOUR PC
The Bio Computer-On-a-Stick with LCD is a USB Flash Drive equipped with Onboard Fingerprint Authentication as well as an Onboard Operating System featuring a full suite of Microsoft Office-compatible applications. With its own LCD to guide you through fingerprint setup and operation, The Bio COS is among the most secure portable computing devices available anywhere.
The Bio Computer-On-a-Stick also boasts the powerful Mozilla Firefox Web Browser, Evolution email, and Yahoo & MSN compatible Instant Messenger for superior Internet connectivity
Plug the Bio Computer-On-a-Stick into your PC or Laptop and instantly transform your old environment into a new and powerful secure workstation - without a hard disk!
The combination of low cost and a powerful Onboard Operating System opens up a whole new paradigm of computing. Users get all the benefits of a thin client solution without changing their existing PC hardware or software.
Features
High Speed USB 2.0
Simple LCD Setup & Operation
Fingerprint Authentication in < 2 Seconds
Up to 1:10000 False Acceptance Rate
One Admin and up to 5 additional users per device
One-Time Passcode (OTP) Generator
Startup complete typically < 40 seconds of Power On
Shutdown in seconds
Configure to boot direct from USB drive without CD on many newer systems
Non-volatile Flash memory with write-protected OS
Compressed utility optimizes space & data protection
Share files easily using a 'Public' folder
No hard disk needed
Capacities: 256MB, 512MB, 1G, 2G. 4G & 8G
Software Specification
Linux 2.6.x Series Kernel
Gnome GUI Desktop
Latest Mozilla Firefox Web Browser
OpenOffice Productivity Suite, including the following applications:
1. Word Processing
2. Spreadsheets
3. Vector Drawings
4. Slide Presentations
Evolution Email
Gaim Instant Messaging Client - compatible with MSN Messenger, Yahoo IM, AIM, ICQ, IRC, and more.
Remote Access Applications (SSH, VNC, RDP)
PDF Creator/Viewer & Postscript Viewer
Automatic Network Configuration - DHCP
............................................................................................
EXPERIENCE IS NOT WHAT HAPPENS TO A MAN BUT IT IS WHAT A MAN DOES WITH WHAT HAPPENS TO HIM
Agent Cosmic

Tech Colleague





OS

:

Windows 7




Anti-Malware

:

ESET Smart Security




Posts

:

3246




Rubies

:

22292




Likes

:

0



Sounds good, but I don't travel much.
............................................................................................

FunSubstance
is the place to go for daily entertainment.
techy

LEET!




OS

:

TRIPPLE BOOT WINDOWS 7 RC BUILD 7100, VISTA SP2, XP SP3,VIRTUAL PC BETA, XP MODE BETA




Posts

:

1385




Rubies

:

5477




Likes

:

0



Well it was never created with an idea that if one travels to foreign locations then one must have this, this was created to compress windows in such a way that even if u loose your recovery dvd/blue-ray, it can be used to clone the whole operating system and boot the windows normally again.
Some of the similar usb products have inbuilt features which support browsers like mozilla firefox , skype, anti-malware, registry cleaners, antispyware,file shredders and much much more one can imagine of, These are all in portable version, and the world of portable media and operating systems is the next revolution u gonna b seeing pretty soon.Secondly whatever changes u do in this type of usb remain only within this. It is a fantastic tool for maintaining web privacy, all your passwords, bank accounts , encrypted crucial data,documents,files,folders,media library, can be stored temporarily on any other PC without leaving a single trace of ur activity once u plug it out.

All u need is anyones PC , be it at friend's home or cyber cafe and u can convert that PC temporarily into your PC, u dnt need to carry ur laptop/notebook where ever u go as this usb stores all your personal customizations and settings without worrying for hackers. Its actually now getting lot of momentum and Microsoft has recently joined hands with their company and are working together to make a bootable recovery usb plugs rather than dvds/blue ray discs.Its very light, affordable,convenient utility, U dnt have to worry about ur recovery media getting scratched,cracked or loosing that any more.

Its also useful for people who wana tripple boot OS, as the data transfer is getting speedier day by day as their technology is refining.

Last but not the least; its password protected , even if u loose this and someone else tries to open it, after few wrong attempts it autolocks up and no one can open this after that. So, its a smart technology which can be used by anyone, anywhere without worrying to carry their laptop/notebook anywhere they go.

Even if one feels that password might get hacked then , the other usb i mentioned has finger printing sensor technology which cannot be hacked, therefore its a fair deal and acts like an anti-hacking removable storage device. Its a practical and modern approach in the field of anti-hacking, and soon everone shall be coming to know more and more about as most people will like it, if not today but tomorrow.
Last edited by techy on 8th November 2008, 3:08 pm; edited 3 times in total
............................................................................................
EXPERIENCE IS NOT WHAT HAPPENS TO A MAN BUT IT IS WHAT A MAN DOES WITH WHAT HAPPENS TO HIM
zaviershk

Leader




OS

:

Xp sp3




Posts

:

526




Rubies

:

4048




Likes

:

0



Nice article techy, you seem to know quite a bit of things. Your articles also seem to have a good number of views!
............................................................................................
RAW!!
jojozzzzz

Senior




OS

:

vista




Posts

:

348




Rubies

:

3950




Likes

:

0



I think i there are some modified thumb drive editions of windows xp, i heard of some poeple using it before.
............................................................................................
sig made by agent cosmic.
techy

LEET!




OS

:

TRIPPLE BOOT WINDOWS 7 RC BUILD 7100, VISTA SP2, XP SP3,VIRTUAL PC BETA, XP MODE BETA




Posts

:

1385




Rubies

:

5477




Likes

:

0



Well. there is not only something but almost everything in todays market. This kind of technology is still being refined and still little younger but sooner u will see more and more acceptance by tech world or the rest. I personally so far have been using blue ray discs for recovery media. Its person's own decision what he/she finds more convenient to use and how.This kind of technology is a clear sign to the trendy portable devices getting much exposure in todays tech world. This is jst the beginning , God knows where lies the end.
............................................................................................
EXPERIENCE IS NOT WHAT HAPPENS TO A MAN BUT IT IS WHAT A MAN DOES WITH WHAT HAPPENS TO HIM
Create an account or log in to leave a reply
You need to be a member in order to leave a reply.
Log in
Already have an account? No problem, log in here.
Log in
---
Permissions in this forum:
You
cannot
reply to topics in this forum