Page 3 of 4 •

1, 2, 3, 4

Kenny94

Security Colleague





OS

:

Windows 7




Anti-Malware

:

Avira/Router and Malwarebytes




Posts

:

2016




Rubies

:

12286




Likes

:

2



Smile we are getting closer. Good job you done there banana_man14.......
As for Mozilla Firefox:
1.From the Tools menu, select Clear Recent History.
2.From the Time range to clear: drop-down menu, select the desired range; to clear your entire cache, select Everything.
3.Click the down arrow next to "Details" to choose what history elements to clear. Click Clear Now.
If you need help. Here's a good site at:
http://www.groovypost.com/howto/firefox/clear-firefox-browsing-history-and-private-data/
We need to restore the google reference under the appinit_dlls, Open
notepad
and copy and paste next present
in
the quotebox below in it:
(don't forget to copy and paste REGEDIT4)
REGEDIT4

[HKEY_LOCAL_MACHINE\SOFTWARE\Microsoft\Windows NT\CurrentVersion\Windows]
"AppInit_DLLs: c:\progra~1\google\google~1\GOEC62~1.DLL"
Save this as
fix.reg
Choose to save as *all files and place it on your desktop.
It should look like this:
Doubleclick on it and when it asks you if you want to merge the contents to the registry, click yes/ok.
Next
There are some older versions of Java on your computer. These can be a source of infection.
[
Your Java is out of date.
Older versions have vulnerabilities that malware can use to infect your system.
Please follow these steps to remove older version Java components and update.


Download the latest version of Java Runtime Environment (JRE) 6 and save it to your desktop.

Scroll down to where it says Java SE Runtime Environment (JRE) - JRE 6 Update 20 -

Click the Download button to the right.

Select the Windows platform from the dropdown menu.

Read the License Agreement and then check the box that says: I agree to the Java SE Runtime Environment 6u16 with JavaFX 1 License Agreement. Click on Continue.The page will refresh.

Click on the link to download Windows Offline Installation and save the file to your desktop.

Close any programs you may have running - especially your web browser.

Go to Start > Settings > Control Panel, double-click on Add/Remove Programs and remove all older versions of Java.

Check (highlight) any item with Java Runtime Environment (JRE or J2SE or Java) in the name.

Click the Remove or Change/Remove button.

Repeat as many times as necessary to remove each Java versions.

Reboot your computer once all Java components are removed.

Then from your desktop double-click on jre-6u120 -windows-i586-p.exe to install the newest version.



After the install is complete, go into the Control Panel (using Classic View) and double-click the Java Icon. (looks like a coffee cup)
On the General tab, under Temporary Internet Files, click the Settings button.

Next, click on the Delete Files button

There are two options in the window to clear the cache - Leave BOTH Checked

Applications and Applets
Trace and Log Files

Click OK on Delete Temporary Files Window
Note: This deletes ALL the Downloaded Applications and Applets from the CACHE.

Click OK to leave the Temporary Files Window

Click OK to leave the Java Control Panel.

To test your Java Run-time, you may go to this page http://www.java.com/en/download/help/testvm.xml
When all is well, you should see Java Version: 1.6.0_20 from Sun Microsystems Inc.
Next
I see some left overs from mcafee. Lets use there tool.
http://download.mcafee.com/products/licensed/cust_support_patches/MCPR.exe
Download the removal tool.

Click Save and save the file to any folder on the computer.

Navigate to the folder where the file is saved.

Make sure all McAfee application windows are closed.

Double-click MCPR.exe and the removal tool will start automatically.
Note: Windows Vista users must right-click and select Run as Administrator.

Once the removal tool is finished, you will be prompted to restart your computer.

Wait for the computer to restart.
And let me know how your PC is doing? Also. when does Norton (your virus program) expire?
pc is running fine now with no fake pop ups for a virus!
what do i do with all the programs i downloaded?
i have just brought the new version of Nortan internet security 2010 as the Nortan 360 has expired, have i done the right thing buying this as i have now read on this website that alot of people think Nortan is rubbish!!!
Basically what im trying to ask is how do i keep my computer safe from malaware etc!
plus do i turn my windows secrity back on. firewall, windows defender etc?
thanks so much for your help. couldnt and wouldnt of done it with out you
Kenny94

Security Colleague





OS

:

Windows 7




Anti-Malware

:

Avira/Router and Malwarebytes




Posts

:

2016




Rubies

:

12286




Likes

:

2



Norton Internet security 2010 is good. And you can enable everything now.
Your Computer is Clean


Some final items:
It's a good idea to Flush your System Restore after removing malware and create a new restore point.
For help with Vista visit: http://www.bleepingcomputer.com/tutorials/tutorial143.html
Here are some additional links for you to check out to help you with your computer security.
Browsers
Just because your computer came loaded with Internet Explorer doesn't mean that you have to use it, there are other free alternatives,
FIREFOX
and
OPERA
, both are free to use and are more secure than IE.
If you are using firefox you can stay more secure by adding
NoScript
and
WOT (Web Of Trust)
NoScript stops Java scripts from starting on a web page unless you give permission for them, and WOT (Web Of Trust) has a comprehensive list of ratings for different websites allowing you to easily see if a website that you are about to go to has a bad reputation; in fact it will warn you to check if you are sure that you want to continue to a bad website.


Make your Internet Explorer more secure - This can be done by following these simple instructions:

From within Internet Explorer click on the Tools menu and then click on Options.

Click once on the Security tab

Click once on the Internet icon so it becomes highlighted.

Click once on the Custom Level button.

Change the Download signed ActiveX controls to Prompt

Change the Download unsigned ActiveX controls to Disable

Change the Initialize and script ActiveX controls not marked as safe to Disable

Change the Installation of desktop items to Prompt

Change the Launching programs and files in an IFRAME to Prompt

Change the Navigate sub-frames across different domains to Prompt

When all these settings have been made, click on the OK button

If it prompts you as to whether or not you want to save the settings, press the Yes button.

Next press the Apply button and then the OK to exit the Internet Properties page.

Additional Security Measures
Visit Microsoft's Windows Update Site Frequently
- It is important that you visit
http://www.windowsupdate.com
regularly. This will ensure your computer has always the latest security updates available installed on your computer. If there are new updates to install, install them immediately, reboot your computer, and revisit the site until there are no more critical updates.
SpywareBlaster
- SpywareBlaster will add a large list of programs and sites into your Internet Explorer settings that will protect you from running and downloading known malicious programs.
Cookienator
- Scans your PC for tracking cookies in multiple browsers as well as in Adobe Flash.
Winpatrol
Download and install the free version of Winpatrol. WinPatrol takes snapshot of your critical system resources and alerts you to any changes that may occur without your knowledge.
Secunia software inspector & update checker
My Blog Malware And Spyware Tips
Also, see here for system improvement:
Help! My computer is slow!
It was a pleasure working with you banana_man14
ok i will do all of that!!!
i have tryed to update my windows, and i have a full internet connection but it will not update and my windows internet explorer will not work would this have anything to do with the virus i had? i have tryed everything they say to do on the windows website but had no luck??!!
Thank you very much for your help.
Have a bonza day
It was good working with you too, you have been very helpful.
Kenny94

Security Colleague





OS

:

Windows 7




Anti-Malware

:

Avira/Router and Malwarebytes




Posts

:

2016




Rubies

:

12286




Likes

:

2



Hi bonza day
Malware can do some damage...So, we can try to clean this up and do what we can, but keep in mind that we can't solve ALL problems this malware already caused.
Please visit the links
HERE
and
HERE
first to read about this new Microsoft tool!
Then you can download and use:
Microsoft Fix it Center Online
Microsoft Fix it Center Client contains troubleshooters that help detect issues on target PCs and solve them on demand or proactively before you even know they exist!
It finds and fixes many common PC and device problems automatically. It also helps prevent new problems by proactively checking for known issues and installing updates. Fix it Center helps to consolidate the many steps of diagnosing and repairing a problem into an automated tool that does the work for you.
Microsoft Fix it Center makes getting support easier than ever, with tools that help solve the issues you have now and prevent new ones.




Easy to Install and Run: Easy-to-use wizards will guide you through the set-up process and help you anytime you need support.


Automated: With automated troubleshooters, Fix it Center helps solve issues with your PC, even if you're not sure what the exact problem is. Fix It Center scans your device to diagnose and repair problems, then gives you the option to "Find and fix" or to "Find and report.


Preventive Care: By helping you find and fix issues before they become real problems, Fix it Center helps keep your PC running smoothly and automatically downloading the latest solutions.

Let me know after you had run all the troubleshooters on your pc if it corrected your problem.
it is not letting me add microsoft fix it center, i have downloaded it but then this message appers when it starts to load: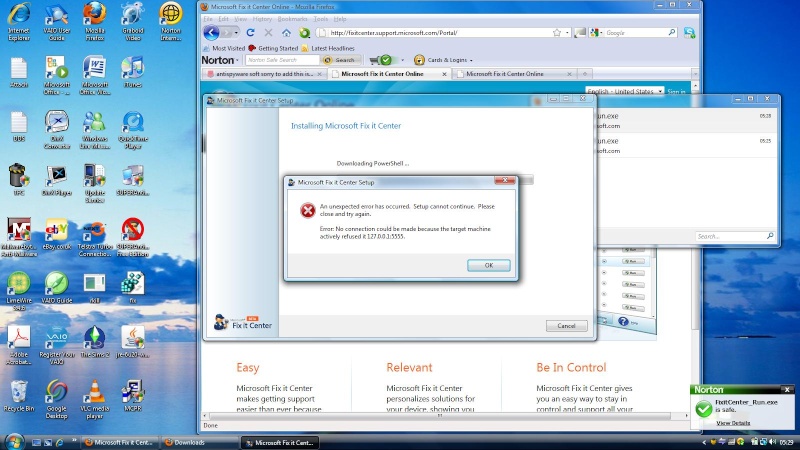 not sure if youcan see it but it says
error: No connection could be made because the target machine actively refused it 127.0.0.1:5555.
Also windows MSN said that it could not sign in. I toubleshooted this problem and it can back saying that the proxy server and key ports failed!
Kenny94

Security Colleague





OS

:

Windows 7




Anti-Malware

:

Avira/Router and Malwarebytes




Posts

:

2016




Rubies

:

12286




Likes

:

2



let's do the following:
Remove the Proxy setting in Internet Explorer and/or in FireFox.
In
Internet Explorer
1.Tools Menu -> Internet Options -> Connections Tab -> Lan Settings > uncheck "use a proxy server" or reconfigure the Proxy server again in case you have set it previously.
In
Firefox
1.Tools Menu -> Options... -> Advanced Tab -> Network Tab -> "Settings" under Connection > Choose "No Proxy"
2.Click the apply button and restart that computer in normal mode.
Next
We need to repair some of windows' internal registration settings
Please read through this guide first


Please download Dial-A-Fix

Extract the zip file to your desktop.

Double click Dial-a-Fix.exe to start the program.

Press the green double checkmark box (Looks like this: )

UNcheck "Empty Temp Folders", as well as "Adjust Time/Date" in the prep section. The prep section should then look like this:


When the window looks like this, press the GO button in the bottom of the window.


Exit/Close Dial-A-Fix

Reboot your computer and let me know if that helped.

i have UNchecked 'use a proxy server for your LAN' in internet options and it has let me view the internet on internet explorer and abled me to download and run microsoft FIX IT.
please could you advise me if i still have to download dial-A-Fix? As my computer seems to be running with no problems now.
If not then, thank you very much for your help, even after the virus had gone!!
Kenny94

Security Colleague





OS

:

Windows 7




Anti-Malware

:

Avira/Router and Malwarebytes




Posts

:

2016




Rubies

:

12286




Likes

:

2



Nope no need to use Dial-A-Fix....
Page 3 of 4 •

1, 2, 3, 4

Create an account or log in to leave a reply
You need to be a member in order to leave a reply.
Log in
Already have an account? No problem, log in here.
Log in
---
Permissions in this forum:
You
cannot
reply to topics in this forum