techy

LEET!




OS

:

TRIPPLE BOOT WINDOWS 7 RC BUILD 7100, VISTA SP2, XP SP3,VIRTUAL PC BETA, XP MODE BETA




Posts

:

1385




Rubies

:

5424




Likes

:

0



SAY GOODBYE TO ANTIVIRUS
Hi, guys, All it takes is a visit to a pushy web site or a "loaded" shareware install, and next minute your Internet Browser homepage has been changed, your default search setting altered, unwanted ads pop up on your screen, and worse.
After using many Antivirus programes for many times and over a longer period of time, I used and know several applications that have proven to be vital in the fight against these unwelcome and possibly harmful viruses,malware intruders. And boy let me tell u ------
U can afford to ignore all the famous Antivirus programes now if given a choice like this.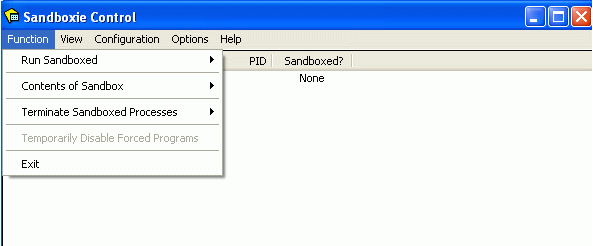 SANDBOXIE [CONVENTIONAL GRAPHICS/POPULAR]
------If you use Windows 2000 or later,there is a free program called Sandboxie[popular]. It creates a special contained "sandbox" environment on your PC. While browsing within the virtual sandbox provided by Sandboxie, you are totally isolated from the vital portions of your PC, namely your operating system environment on your Harddrive and memory locations for you current OS session. So any files you download are isolated to the sandbox. Similarly, any programs that are executed only do so within the sandbox, and have no access to your normal files, the Windows operating system or any other part of your PC.Usage is remarkably simple. To start a sandboxed browsing session, you just click the Sandboxie icon from the Quick Launch tray and this will launch your default browser in the sandbox. You can then use it in the normal way to browse to sites or download files, but be aware that the sound may be muted in that video file you're about to view.If you download a file, it will install normally but, again, will be isolated from your real PC, because any new processes running in your computer memory or entries in the Windows startup areas will be sandboxed.
After you have finished browsing, you can right click the Sandboxie icon and delete all sandboxed files and processes, and your PC will be returned to much the same state it was in before the browsing session. You can also change configuration settings to automatically delete all contents when you close a sandbox. If you want to retain particular downloaded files, you can save them permanently before clearing the contents of the Sandbox.
The advantage is clear: any spyware, trojans, keyloggers or other malware products that "infected" your PC while browsing will be eliminated.Sandboxie works fine with all browsers and most software applications but requires Windows 2000 and later. It can cause problems on some PC's so backup before installing.
CLICK HERE--Sandboxie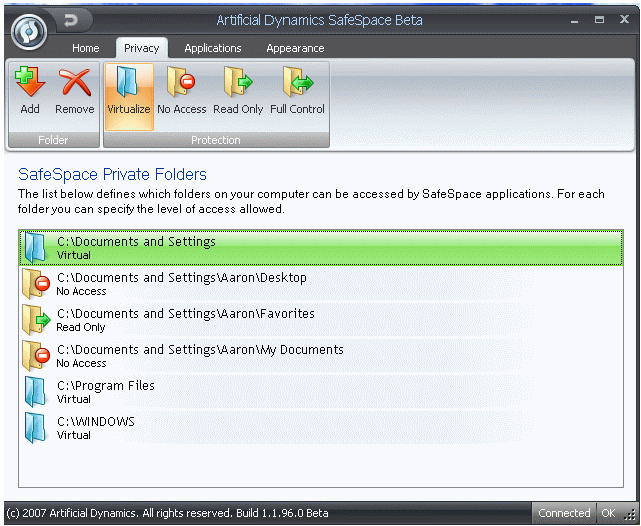 SAFESPACE [GOOD GRAPHICS/MICROSOFT GOLD CERTIFIED PARTNER]
--is a similar program with a more visually appealing environment and extra configuration options. It does take up more system resources than Sandboxie but may be favored by more novice users. The nice graphical interface makes working with the application simple and straightforward. Overall SafeSpace is another great application tailored to beginning and intermediate users. SafeSpace does require .Net Framework 2.0 to be installed prior to installation. Unfortunatly, version 2.0.41 will be the last official version available. Artificial Dynamics are the developers of SafeSpace.I really liked it as it's very easy to use, it disadvantage is that it
disables the Mcafee site advisor
and is
a resorce hog
but i overlooked all these disadvantages for the kind of protection it offered.
Nice,clean, ease of use and good graphics are the the ones u must look for. The ideal advantage using space space is that even if u r attacked by virus, u jst have to log off and log on again , and u will find u were never ever attacked.
CLICK HERE--SafeSpace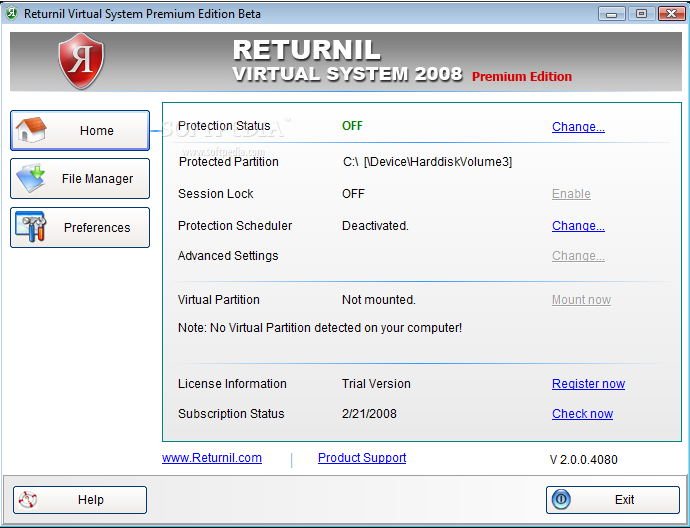 RETURNIL [ADVANCED USERS/PC WORLD AWARD WINNER]
---If you would like to take your system protection even further, look no further than Returnil Virtual System. With Returnil you get a cloned version of your system partition to boot from and work in. If anything does happen to go wrong during your session, it's as easy as rebooting your system, and your whole operating system environment is back to where it was. Returnil provides a slightly different type of protection compared to the former applications reviewed. I don't know if I would need the level of protection of working in a cloned enviroment, but if the fear of losing or damaging your current system partition is a priority, Returnil should provide an excellent solution.
CLICK HERE---Returnil


Some of the others i would like to mention here;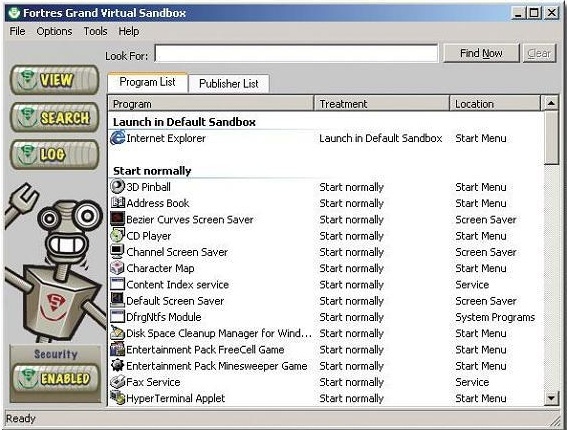 VIRTUAL SANDBOX
---Similar program, stops malware, virus infections, utrusted programmes,From inside the sandbox there is no real access to your computer hardware and only apparent access to the minimum system files required for execution. After the attachment executes, the sandbox is figuratively raked smooth again, discarding any permanent file changes attempted by the attachment.
GO TO--Virtual Sandbox
BUFFERZONE
--uses a unique application virtualization technology that transparently redirects modifications in your PC to a virtual, isolated environment, so that unauthorized modifications cannot be applied to your actual PC. BufferZone's application virtualization technology should not be confused with PC virtualization software such as VMware or Virtual PC.
BufferZone's Antivirus and Anti-malware application virtualization does not consume resources, memory, and CPU the way PC virtualization software does
.BufferZone---Is an application virtualization merely redirects applications' writes to another place on the disk. Therefore, only the modifications are duplicated. Windows and its processes continue to run within their usual environment.An example of how BufferZone Security Technology works: A friend introduces you to an alien link where you can download a cool screen saver. You want to enjoy the screen saver; however, you're not sure if you can trust the link, having no idea whether or not the screen saver file is infected. Here comes bufferzone technology handy.
GO TO---BufferZone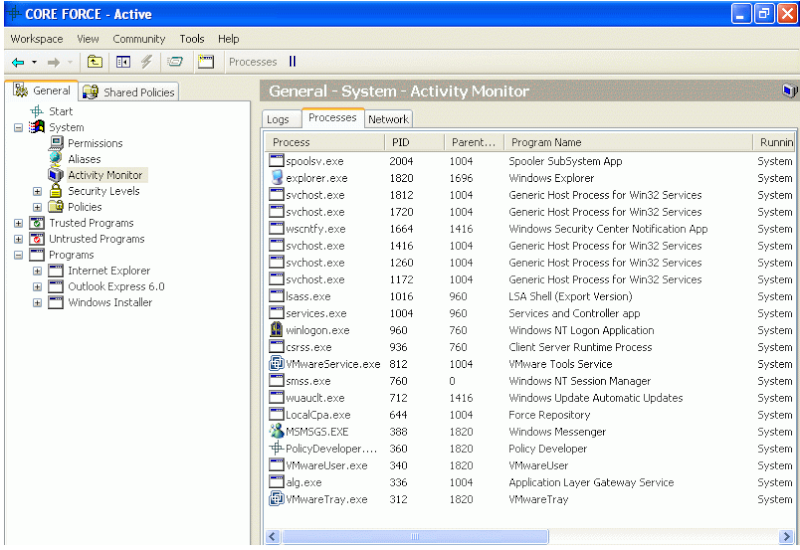 COREFORCE
--It provides security features to protect against
malware, trojan horses and external attacks
that exploit and leverage security vulnerabilities in the operating system and software applications running on the workstations.
Protects your computer from compromise by worms, virus and email-borne malware
and does the following as it ;
Prevents you computer from being used as a staging point to amplify attacks and compromise others
Prevent exploitation of known bugs in the operating system and applications running on your computer
Prevent exploitation of unknown bugs (0-day) in the operating system and applications running on your PC
Detect and prevent execution of adware, spyware, trojan horses and other malware on you computer.
GO TO--
CoreForce
............................................................................................
EXPERIENCE IS NOT WHAT HAPPENS TO A MAN BUT IT IS WHAT A MAN DOES WITH WHAT HAPPENS TO HIM
gloriafairy

Senior




OS

:

Vista




Posts

:

221




Rubies

:

3958




Likes

:

0



Sandbox... Heard me that before. VMs work the same right?
techy

LEET!




OS

:

TRIPPLE BOOT WINDOWS 7 RC BUILD 7100, VISTA SP2, XP SP3,VIRTUAL PC BETA, XP MODE BETA




Posts

:

1385




Rubies

:

5424




Likes

:

0



Well, Vmware was designed for a bigger infrastructure and is server based virtualization which acts on the similar principal of virtualization as the others. The cost and maintainance of this is on heavier side as its demand is more felt in higher businesses or higher organisations where data loss can lead to heavy loss and unavoidable disaster. Organizations use VMware VDI to replace traditional PCs with virtual desktops that run on servers in the data center. Administrators can provision new desktops in minutes, giving users their own personalized desktop environments while eliminating the need for retraining and application sharing. This approach helps to reduce the total cost of ownership (TCO) for your desktop infrastructure, extends the life cycle of your hardware and helps you respond more quickly to business needs.It primarily caters to bigger firms than individuals. Its a big resorce hog, and consumes lot of CPU usage, Ram which is needless for laptop users. But its again an individual choice. The programmes i have mentioned above are mostly free except some. U can give them a try if u want but in any case back up ur data keeping room for any unpredictable events.
VMware is basically a full fledged PC virtulization and for further information---Click here----VMware
............................................................................................
EXPERIENCE IS NOT WHAT HAPPENS TO A MAN BUT IT IS WHAT A MAN DOES WITH WHAT HAPPENS TO HIM
gloriafairy

Senior




OS

:

Vista




Posts

:

221




Rubies

:

3958




Likes

:

0



I see. Thanks for that detailed info techy.
jnettow

Novice

Posts

:

25




Rubies

:

3605




Likes

:

0



I will try get sandboxie, i heard of it in a magazine before. By the way techy, you seem like a antivirus guy.
techy

LEET!




OS

:

TRIPPLE BOOT WINDOWS 7 RC BUILD 7100, VISTA SP2, XP SP3,VIRTUAL PC BETA, XP MODE BETA




Posts

:

1385




Rubies

:

5424




Likes

:

0



I wanted some alternative to traditional anti-virus programmes which sounds little virtual, and hence inspired me to look for such virtual programmes and when i found these programmes, i used some of them , I liked SafeSpace and Returnil as both are user friendly, Returnil is for more advanced users. I am really not forcing anyone to leave their favourite anti virus programmes. Its ones personal preference but there is no harm in jst trying these simple free programmes above. What can happen worst ----u may not like it. If for some reason u dnt like it then leave it. Continue using ur stuff .These programmes can really save from virus infection but never ever forget to read the tips/e-manual when u install any application.
............................................................................................
EXPERIENCE IS NOT WHAT HAPPENS TO A MAN BUT IT IS WHAT A MAN DOES WITH WHAT HAPPENS TO HIM
Maxjax

Beginner




OS

:

Vista Ultimate, XP Pro, XP 64 bit, Suse KDE, Fluxbuntu, Couple of other flavours of Linux?




Posts

:

2




Rubies

:

3578




Likes

:

0



Sandboxie can also be configured so that only your browser can use internet resources and even configured that nothing can run in the sandbox other than what you specifically allow.

So in effect if a key logger is inadvertantly downloaded through a sandboxed session it can log but can't send an info out or can't run at all if it is disallowed.

Been using/beta testing Sandboxie since around three years and it would be one of the best security apps ever.

Give it a bit of time to learn it's ins and outs and I doubt you would be without it.
http://sandboxie.com/phpbb/viewtopic.php?t=3711

Also employ Returnil and Ghost Images/clones here.

VM's are used as well for any heavy duty malware testings with the real system in Returnil mode as well.

Defensewall is another excellent security app and Comodo's disk Shield (beta) has potential and is a system virtualization option for 64 bit systems.
vikneshwaren

Senior




OS

:

Microsoft Windows 7 Ultimate




Posts

:

251




Rubies

:

3846




Likes

:

0



Create an account or log in to leave a reply
You need to be a member in order to leave a reply.
Log in
Already have an account? No problem, log in here.
Log in
---
Permissions in this forum:
You
cannot
reply to topics in this forum