Doctor Inferno

Site Admin




OS

:

Windows 7 Home Premium and Ultimate X64




Anti-Malware

:

Kaspersky PURE and Malwarebytes' Anti-Malware




Posts

:

11975




Rubies

:

75763




Likes

:

15



This guide will give you easy instructions on how to uninstall or get rid "My Security Wall" for free.


What is My Security Wall? (Information)
My Security Wall is a fake security software which uses fraudulent strategies by displaying false or exaggerated security issues on your computer rather than any legitimate ones to coerce you into purchasing their software.
My Security Wall is a new malicious specimen from the same group of fake antivirus software as Virus Doctor.
---
Follow these instructions to continue:
You have to start computer in Safe Mode by doing the following:
Restart your computer

After hearing your computer beep once during startup, but before the Windows icon appears, keep tapping F8.

Instead of Windows loading as normal, a menu should appear

Select the first option, to run Windows in Safe Mode with Networking.
---
1. Please download this removal tool: Malwarebytes' Anti-Malware.
2. Install Malwarebytes' Anti-Malware by double clicking on
mbam-setup.exe
3. Follow the prompts. Make sure that
Update Malwarebytes' Anti-Malware
and
Launch Malwarebytes' Anti-Malware
are checked. Then click finish.
4. Malwarebytes' Anti-Malware will automatically update itself after the install, you can press the
OK
button to close that box and you will now be at the main program as shown below.
If you are having problems with the updater, you can use this link to manually update Malwarebytes' Anti-Malware with the latest database
Spoiler:



Malwarebytes' Anti-Malwares' latest database


Download the

Full database

to your Desktop or to your usual Download Folder and install it by double clicking the file. Make sure that Malwarebytes' Anti-Malware is closed before installing the update.
5. Close ALL open Windows, Programs, File or Folders.
6. Make sure you are on the
Scanner
tab. Select
Perform quick scan
then click the
Scan
button as shown above.
7. Malwarebytes' Anti-Malware will now start scanning your computer for infected files as shown below.
8. When the scan is finished a message box will appear, click
Ok
to continue.
9. Click
Show Results
.
10. You will now be presented with a screen showing you the malware infections like shown below. Yours may look different depending on the infection you have.
11. Click on
Remove selected
12. When removing the files, Malwarebytes' Anti-Malware may require you to restart the computer in order to do a complete removal. If it displays a message stating that it needs to restart, please allow it to do so.
13. Next, open Notepad by going to
Start
>>
All programs
>>
Accessories
. Copy the following code to Notepad:
Code:

@echo off
echo,Y|cacls "%WinDir%\system32\drivers\etc\hosts" /G everyone:f
14. Save the file name as hostsfix
.bat
, Select
All Files
under Save as type. Click Save and save it to your desktop. Run the file.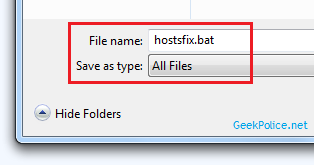 15. Navigate to
C:\Windows\System32\drivers\etc\
and delete the file named
hosts
.
16. Download one of the following HOSTS file for the version of Windows you are using.
Windows XP HOSTS file

Windows Vista HOSTS file

Windows 7 HOSTS file
17. Restart your computer and your computer is now cleaned from My Security Wall.
To protect your computer from future threats like this, you may want to consider purchasing the
Pro version of Malwarebytes' Anti-Malware
with
real-time protection
from
this link.
---
If you are still experiencing problems or difficulties following this guide or require any assistance removing this software, please post your questions in our
Virus, Spyware & Malware Removal
forums for free help.
You have to be logged in to post questions.
Registration
is free. By registering you are privileged to other virus removal resources in future.
Last edited by Doctor Inferno on 10th April 2010, 5:26 am; edited 2 times in total
............................................................................................
Please be a GeekPolice fan on
Facebook!

Have we helped you?
Help us!
| Doctor by day, ninja by night.
DrivingMeCrazy

Beginner




OS

:

Windows Vista




Posts

:

1




Rubies

:

3050




Likes

:

0



Hi Doctor Inferno, I apologize if I am doing anything wrong by posting here, I am new to this site. Thanks for the article on how to remove the my security wall virus, but I'm stuck on #15. I did the thing on the notepad, the little screen came up and disappeared within a few seconds, I'm guessing that is suppose to happen. The part that got me stuck was on deleting the "hosts" from the etc folder. I could not find it, so I ended up deleting the "host_new" file which has been modified yesterday the 12th of Feb. Since I did not think that was right, I looked for the hȋdden folders and surely enough, there was the "hosts" file. I tried to delete it and for some reason I can't. I'm getting an access denied and "you need to confirm this operation, I click continue, and it says "you need permission to perform this action" with an option of try again or cancel, I keep clicking try again and nothing happens, it just keeps on going to that screen. I even tried dragging the new hosts file into the folder and I cannot replace the old "hosts" file with the new one because i'm still getting that I need permission to perform this action and the account I am on is an administrator's account. I am running a window's vista if that's any problem and I'm on my mom's laptop trying to help her get rid of this virus. please help me, I'm pulling out my hair here trying to figure out what I am suppose to do. Thank you in advance
chavez

Beginner

OS

:

Vista Pro




Posts

:

1




Rubies

:

3044




Likes

:

0



Drive me Crazy,

I had the same problem you did, In order to modify or change the Hosts file you have to run the hostsfix.bat file as an administrator. To do so, right click over the batch file and select run as administrator. What I did was just move the hosts file into the C:\Windows\System32\drivers\etc folder and then chose to overwrite existing file. Hope this helps.
Cooper

Beginner

OS

:

Windows XP




Posts

:

1




Rubies

:

3038




Likes

:

0



Hi Guys : New to the site and have run this for My Security Wall 3 times - went down from 795 infected keys etc to zero. Can't see My Security Wall anywhere on listings but McAfee says it can't download as the PC still contains My Security Wall which will prevent the virus checks working correctly. Any advice appreciated. (McAfee was operative when this virus appeared in the first place). Pulling hair out at present - is there also a better option to McAfee anyone can recommend ?)
Create an account or log in to leave a reply
You need to be a member in order to leave a reply.
Log in
Already have an account? No problem, log in here.
Log in
---
Permissions in this forum:
You
cannot
reply to topics in this forum